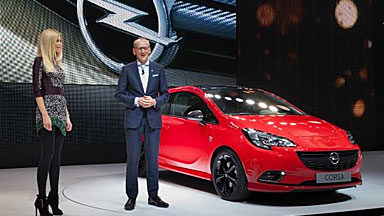 Rüsselsheim/Paris. Raise the curtain for the Paris Motor Show: Opel opened the show this afternoon with the world premiere of the new Opel Corsa. The Opel exhibition stand located in Hall 5 paid tribute to the fashion capital and resembled a catwalk. The newest generation of the small car bestseller, driven by Opel Group CEO Dr. Karl-Thomas Neumann, graced the stage first, followed by the fashion icon. The supermodel will also be the star of the upcoming advertising campaign for the successful car from Rüsselsheim.

"The new Corsa offers pure driving experience for an entry-level price of just €11,980. Outstanding steering precision, first class comfort along with completely new high-torque turbocharged engines – traits normally reserved for much more expensive cars. Furthermore, the interior impresses with highest quality and the Infotainment system guarantees excellent connectivity for Apple and Android devices. You just have to love our fashionable Corsa," said an enthusiastic Neumann.

Supermodel Claudia Schiffer has also already succumbed to the charm of the star of the exhibition. "The Corsa looks great and is very chic – just like Paris. In general, I like the design of all the new Opel cars like ADAM, Mokka and, of course, the Corsa a lot. Now I am looking forward to shooting the Corsa adverts even more," said Schiffer.

Elsewhere, Opel is also presenting the sporty ADAM S in Paris. The lifestyle pocket rocket will be available from November. Its 110 kW/150 hp will propel it from 0 to 100 in 8.5 seconds and enable top speeds of well over 200 km/h. The popular Opel Mokka will be fitted with the 100 kW/136 hp 'whisper diesel' already known from the Astra and will deliver a combined cycle consumption of 4.1 liters of diesel. Opel has also prepared a new and ultra-modern engine for the company's flagship, the Insignia, and for the versatile Zafira Tourer. Both will be available with the 125 kW/170 hp and 400 Nm 2.0 CDTI turbo diesel that impresses with low consumption and extraordinary smoothness. The new 2.0 CDTI runs as clean as a gasoline engine thanks to Opel's BlueInjection selective catalytic reduction (SCR) system.