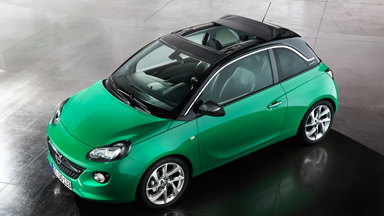 Easytronic 3.0: Automated transmission for more efficiency and comfort

Cool interior: New Extreme Package 'Hashtag' for ADAM GLAM

Rüsselsheim. The individualization champion Opel ADAM will be even more unique from now on. Impossible? Wrong! New technologies and features will extend the motley ADAM family: The Swing Top canvas roof, previously exclusively premiered in the mini-crossover ADAM ROCKS, is now also available for the 'standard' version of the urban lifestyle car. The new ADAM SWINGTOP will offer an unrestricted view of the sky as standard at the push of a button. New ADAM owners will have even more options to personalize their vehicle with the new ADAM GLAM Extreme Package 'Hashtag'. Opel has also increased the options for transmissions and now offers Easytronic 3.0, the latest in automated transmission technology, for drivers who no longer want to shift themselves permanently. The new system not only allows for quicker and softer automatic gear changes but also helps reduce consumption and emissions by around

"These new attractive possibilities will further strengthen our large ADAM family and give everybody the opportunity to configure their personal ADAM favorite," explained Peter Christian Küspert, Vice President Sales & Aftersales Opel Group. "The choice of colors is growing too. We have added new colors in 'Forget about Grey' and 'Greenfellas'. Therefore, customers can choose from 19 different bodywork colors now."

ADAM with Swing Top roof: Pure open-air pleasure

Fresh air fanatics now have a further option at their disposal alongside the mini-crossover ADAM ROCKS with the 'standard' ADAM now being available with the extraordinary Swing Top canvas roof. The ADAM with Swing Top canvas roof is based on the ADAM JAM configuration and offers occupants an unrestricted view of the sky in a mere five seconds. The roof retracts to the C-pillar at the touch of a button. It can be closed up to speeds of 140 km/h. The layers, including a central neoprene layer, make the Swing Top extremely robust and durable. Furthermore, the entire roof module is acoustically tuned for good noise insulation inside the cabin.

The ADAM with Swing Top roof offers pure convertible feeling without the typical convertible disadvantages for an entry-level price of euro 14,990 (RRP including VAT in Germany). Neither trunk capacity nor all-round vision suffer under this roof design, no matter whether the roof is open or closed.

Easytronic 3.0: Great comfort – small price

Furthermore, the immediate introduction of the newly developed Easytronic 3.0 will complete the ADAM transmission portfolio. The automated gearbox combines the advantages of a comfortable automatic transmission with the increased efficiency of a manual gearbox. The third generation of Easytronic promises shortened response times, resulting in gear changes that are unrivalled by any other automated transmission in terms of smoothness and speed.

Apart from increasing driving comfort, improving efficiency was key during the development of Easytronic. In combination with the 64 KW/87 hp 1.4-liter naturally aspirated engine, Easytronic 3.0 cuts fuel consumption by up to 0.4 liters per 100 kilometers for the combined cycle compared to a five-speed manual transmission. This is equivalent to a reduction of CO2 emissions by 10 grams per kilometer. In this arrangement, the ADAM 1.4 ecoFLEX with Start/Stop consumes 4.7 liters per 100 kilometers and emits 109 grams of CO2 per kilometer, meaning that it makes the leap from efficiency class C to B. However, the key factor is affordability. Therefore, Easytronic is available for a very reasonable euro 600 (RRP including VAT in Germany).