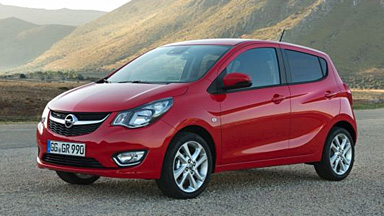 Safe: With technologies and features from higher segments

Sound: Compact dimensions, low curb weight and room for up to five people

Rüsselsheim. Its dimensions: extremely compact. Its engine: very frugal. Its name: simply KARL, Opel KARL. The five-door car with space for up to five people will celebrate its world premiere at the Geneva Motor Show (March 5 to March 15). The new addition to the Opel family can be equipped with numerous safety and comfort technologies that are unrivalled in the microcar segment. At just 3.68 meters long and 1.48 meters high, the new Opel KARL offers the perfect combination of a spacious interior and compact exterior dimensions. KARL is powered by a modern, latest generation one-liter, three-cylinder gasoline engine that emits 99 g/km CO2.

"KARL is Opel's attractive entry-level model while it also completes the small car trio next to the ADAM family and new Corsa," says Opel Group CEO Dr. Karl-Thomas Neumann. "It is the ideal car for price-conscious customers who want to combine everyday suitability with comfort, high economy and modern technologies."

Efficient: New 1.0 ECOTEC three-cylinder

Customers can choose from three equipment levels for the new Opel KARL – Essentia, Enjoy and Cosmo. It can be outfitted in ten different body colors from "Night Violet" to "Kiwi Green". The newcomer from Rüsselsheim is not just good looking, it also impresses with its inner values. Under the hood, it boasts the latest generation in Opel powertrain technology: the new 1.0 ECOTEC with 55 kW/75 hp, an all-aluminum one-liter, three-cylinder gasoline engine, is distinguished by its running smoothness and efficiency. Drivers can regulate the power perfectly via a five-speed manual transmission. KARL's chassis and steering have been developed to provide exceptional safety and comfort for top driving performance. But the most impressive feature is that with the ecoFlex package, consisting of an aerodynamically optimized front spoiler lip and roof spoiler, the small car emits just 99 g/km CO2. This can reduce fuel consumption down to 4.3 liters per 100 kilometers. The ecoFlex package includes further elements such as especially low-rolling-resistance tires.

Track width of 1,410 mm (front) and 1.416 mm (rear) together with the 2.385 mm long wheelbase offers a high level of comfort. Tipping the scales at 939 kg, the five-door KARL is a real lightweight while offering plenty of room. The asymmetrical (40%:60%) split foldable rear seat back (optional with Enjoy, standard with Cosmo) enables ample loading space. With the rear seat backs folded down, KARL offers almost 1,000 liters of stowage area up to the roof.

Intelligent assistants

KARL comes fitted with numerous safety and comfort features that customers do not expect in this price category. In addition to standard Hill Start Assist, which prevents the car from rolling back when starting on a slope, the Lane Departure Warning integrated in the front camera is a further safety feature highlight. It alerts drivers with an acoustic signal and a blinking yellow icon on the instrument panel when they unintentionally stray out of their lane.

Like the ADAM and Corsa, KARL also features the City mode that reduces steering effort at the push of a button (from Enjoy), greatly facilitating maneuvering in heavy city traffic. Park Assist is also available and assists the driver during parking by issuing an acoustic warning as the car approaches obstacles when reversing. Standard from the Enjoy trim level, Cruise control with speed limiter regulates driving speeds, which is extremely helpful in complicated urban traffic and in residential areas with a 30 km/h speed limit. The fog lights guarantee improved illumination in adverse weather conditions whereas the integrated cornering light function ensures that turning maneuvers are safer for the driver and other road users. The Enjoy Plus package consists of fog lights and Lane Departure Warning together with 15-inch design wheels and the asymmetrical (40%:60%) split foldable rear seat back. This package with 15-inch alloy wheels comes standard with the Cosmo equipment edition.

The exceptional list of comfort, assistance and safety features available in the KARL can be seamlessly continued. The Winter package ensures heated front seats along with the heated leather steering wheel for cozy warmth.

In its Cosmo trim level, KARL includes the R300 BT radio with six loudspeakers, Aux-in and USB ports as well as Bluetooth hands-free phone connectivity and audio streaming. It can be combined with DAB+ (Digital Audio Broadcasting), substantially increasing program choice and sound quality.

So Opel's smallest model that rounds off the company's small car segment offer from next summer is simply everything – practically pretty and pretty practical, all for an entry-level price of under 10,000 euros.