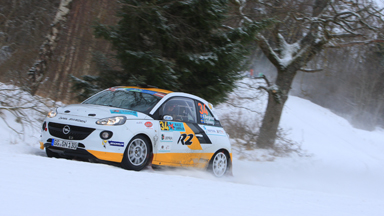 Emil Bergkvist arrives as leader of FIA ERC Junior category
Marijan Griebel counting on Opel ADAM R2's fine asphalt abilities

Rüsselsheim. Highly motivated and full of confidence, the ADAC Opel Rallye Team is heading to the second round of the FIA ERC Junior, the high speed Circuit of Ireland Rally, on April 2 – 4, 2015. The stiff competition is up against the Opel ADAM R2's outstanding qualities on asphalt, and a team buoyed by Swede Emil Bergkvist (20) and co-driver Joakim Sjöberg's (29) superb victory in Latvia last month, the first ERC Junior round of the year.

Despite his success, the Opel works driver from Torsåker, now leading the ERC Junior rankings, is staying cool, calm and collected. "Even after our win in Latvia, my expectations are exactly the same as at the beginning of the season," says Bergkvist. "I know that I still have a lot to learn, especially on asphalt. So in light of all the strong opposition in ERC Junior, the Circuit of Ireland will be a new and big challenge. At the same time, the ADAM R2 and the ADAC Opel Rallye Junior Team have proven their potential to win rallyes at this incredibly high level. So I have a good feeling about Ireland, and its close, fast stages will be tons of fun!"

Bergkvist's German team colleagues, Marijan Griebel (25, from Hahnweiler) and co-driver Stefan Clemens (28, from Weiskirchen), are also raring to go and keen to make up for an unfortunate end to their run in Latvia. Griebel: "I'm only familiar with the rallye in Ireland from on-board videos and TV footage, but I know that narrow roads and lots of jumps await us. The stages are unique and challenging, and will for sure be great to drive. I have no doubt the competition will again be incredibly tough. But as I prefer asphalt surfaces, and the ADAM R2 is evidently well suited for such conditions, I hope that Stefan and I will be among those to be reckoned with in Ireland."

The competition at the event, part of the FIA ERC and held around Northern Ireland's capital city Belfast, is once again top-notch. A total of 22 R2 cars from the RC4 category, including 19 teams registered in FIA ERC Junior, will tackle 18 extremely demanding asphalt stages totaling around 215 kilometers in length. Donegall Square in Belfast will be the site of the Circuit of Ireland Rally's official starting ceremonies on Thursday evening. The first day of competition on Friday comprises eight stages, to be followed by another 10 on the second day.

Fans can keep up with what's happening at the event through live services provided by Opel Motorsport and FIA by clicking on the button on the homepage of www.opel-motorsport.com, or by going to the FIA website: www.fiaerc.com/events/live/id/28.

Circuit of Ireland TV Schedule:
Thursday, 2 April
23:30 Eurosport Preview reports
Friday, 3 April
23:00 Eurosport Highlights Day 1
Saturday, 4 April
08:00 Eurosport Highlights Day 1 (repeat)
23:15 Eurosport Highlights Day 2
Sunday, 5 April
08:00 Eurosport Highlights Day 2 (repeat)
Tuesday, 7 April
23:00 Eurosport Inside ERC – The Magazine