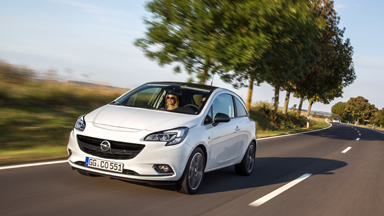 Clean and economical: Corsa 1.4 LPG cuts CO2 emissions down to 113 g/km
Refined and powerful: Long range, lively performance with 66 kW/90 hp

Rüsselsheim. Introducing the Mr. Clean of the Corsa family – green, powerful and economical, the new Opel Corsa 1.4 LPG (Liquefied Petroleum Gas) ecoFLEX develops 66 kW/90 hp and comes straight from the factory with a bi-fuel capability. Specifically aimed at cost-conscious customers, this latest member of the new Corsa family is an ideal choice in the small car segment because LPG drivers' wallets benefit two-fold. On the one hand, fuel costs plummet by almost 50 percent compared to gasoline due to the low price of LPG, while on the other hand, the Corsa 1.4 LPG ecoFLEX boasts a particularly attractive entry-level price. The three-door model is now available from just 14,745 euros, and the five-door model from 15,495 euros (RRP incl. VAT in Germany).

The Corsa LPG is not only extremely cost-efficient, but also kinder to the environment. That's because LPG, a mixture of butane and propane gas which the four-cylinder engine burns under the Corsa's shapely hood, is known for its super-clean combustion characteristics. Using this fuel, the new Corsa consumes just 6.9 liters per 100 km over the combined cycle and emits only 113 g/km CO2 – around 13 percent less CO2 than in gasoline operation. The nitrogen oxide emissions are even up to 80 percent lower.

"With the 1.3 CDTI, which consumes just 3.1 liters diesel, and our brand-new 1.4 LPG ecoFLEX, we have two real 'eco-champions' in the Corsa line-up. Once again, they both show how important energy efficiency and CO2 emissions reductions are for us in all model ranges," says Peter Christian Küspert, Opel Group Vice President Sales and Aftersales. "But these models aren't only attractive for especially cost-conscious drivers. They also offer many features that go far beyond what's normally found in the small car class, such as ample space, superb comfort, state-of-the-art connectivity and driver assistance systems."
Bi-fuel driving: Long range with low fuel costs and emissions

The Opel Corsa 1.4 LPG offers 66 kW/90 hp in both LPG and gasoline operation and is available with a five-speed manual transmission. It needs just 6.9 liters per 100 km in alternative fuel mode, while CO2 emissions of 113 g/km are around 13 percent lower than in conventional gasoline operation. Fuel costs are reduced by almost 50 percent compared to gasoline. This huge saving is the result of tax benefits stipulated for LPG until 2018. And, looking further ahead, the prospects look promising because tax advantages for alternative fuels are expected to be extended on both the national and European levels.

Another benefit of the new-generation LPG Corsa is that, like all Opel LPG models, it comes ready for bi-fuel operation ex-works. The driver can switch between LPG and gasoline by pushing a button. A newly developed control module now enables an even more efficiently synchronized transition between the two operating modes. This means a driving range of up to 1,200 km is possible without having to stop to refuel. Range and consumption can be viewed separately for LPG and gasoline, as well as combined via an on-board computer. Today there are around 7,000 LPG filling stations in Germany and more than 35,000 across Europe.
Space-saving and safe: Complete everyday use with LPG

The LPG tank's installation in the spare-wheel housing of the trunk is both space-efficient and collision-protected. As a result, the Opel Corsa LPG still offers accommodation for five people or up to 1,120 liters of luggage space, just like its Corsa siblings. It also features the same ultra-modern driver assistance systems and equipment features – from standard City mode, optional steering wheel heating and automatic Park Assist all the way to Opel's award-winning IntelliLink infotainment system complete with 7-inch color touchscreen.
Eco-twin on the diesel side: Corsa 1.3 CDTI ecoFLEX with 82 g/km CO2

The new Corsa 1.4 LPG isn't the only model that proves Opel's new small car generation is environmentally friendly. For those who want to drive frugally and comfortably with conventional fuel, Opel offers a new eco-champion: the Corsa 1.3 CDTI ecoFLEX with Easytronic 3.0 transmission. The 70 kW/95 hp diesel variant reduces combined cycle fuel consumption to an exemplary 3.1 liters per 100 km. Equipped with standard Start/Stop technology, braking-energy recuperation and optional low-rolling-resistance tires, the three-door model emits just 82 grams CO2 per km. This makes the Corsa 1.3 CDTI ecoFLEX the most economical Opel model on the market today. The five-speed Easytronic 3.0 also combines the comfort advantages of an automatic transmission with the efficiency of a manual gearbox. It automatically selects the appropriate gear for best possible fuel consumption, but is based on a manual transmission optimized for smaller engines which enables ultra-economical driving. The driver can take manual control of Easytronic 3.0 at any time by pulling or pushing the gear selector lever. The Corsa 1.3 CDTI ecoFLEX with 70 kW/95 hp and five-speed Easytronic 3.0 is available from 16,410 euros (RRP incl. VAT in Germany).