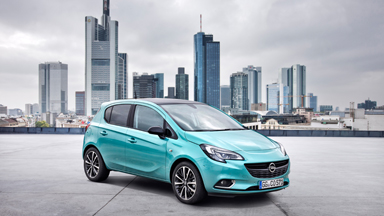 Market share continues to increase
Further growth expected thanks to product offensive

Rüsselsheim. Opel continued its positive trend in April with the carmaker selling around 92,700 vehicles across Europe – an increase of around 3,600 units or four percent. Opel also increased its European market share by 0.1 percent points to 5.64 percent.

The growth is especially based on a strong performance in Germany. In Opel's home market, sales were up around seven percent in April. The company had an April market share of 7.26 percent – its highest April market share in the passenger car segment since 2011. Opel also posted improved sales figures, amongst others, in Turkey (+68 percent), Ireland (+42 percent), Greece (+34 percent) and Poland (+24 percent). In total, the Rüsselsheim-based carmaker increased its sales volume in 19 countries.
In the period from January to April, Opel sales increased by 3.3 percent whereas the overall European automotive market only grew by 2.6 percent.

The Mokka once again proved to be a popular choice among buyers with sales increasing in April by almost 30 percent. Corsa registrations were also up 20 percent. Opel has already received over 200,000 orders for its small car bestseller. Sales of the light commercial vehicles Vivaro and Movano grew even faster with an increase of 30.5 and 32.5 percent respectively.

"Our sales outperformed the market despite the conditions remaining difficult. This is further proof of the impact our product offensive is having," said Peter Christian Küspert, Vice President Sales & Aftersales Opel Group. "We expect further growth from KARL, our mobility and service assistant Opel OnStar and the new Astra that we will present at the Frankfurt Motor Show in September."

Opel is currently in the middle of the biggest product offensive in the history of company. By 2018, the carmaker will bring 27 new models and 17 new engines to market and is targeting considerable growth throughout Europe.