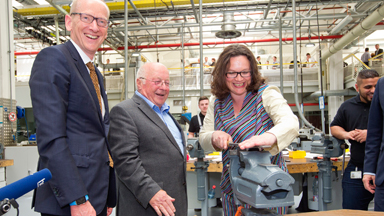 Adam Opel hired the first apprentice, sealing the deal with a handshake
Best-known Opel apprentice Norbert Blüm joins panel discussion

Rüsselsheim. Opel celebrated a milestone anniversary today: The company has been training young people for 150 years. Numerous guests – including Andrea Nahles, Federal Minister of Labour and Social Affairs, and Professor Alexander Lorz, Hessian Minister of Culture – came to the training center on Mainzer Strasse for speeches, a panel discussion with high-profile participants and the opportunity to find out firsthand about vocational training at Opel.

Opel CEO Dr. Karl Thomas Neumann pointed out the more than 25,000 apprentices who have started their careers at Opel so far: "We are proud of this grand tradition. Opel has always seen vocational training as more than just a duty. Thanks to our well-trained young employees, we have no fear of the future."

Head of the Opel Works Council Dr. Wolfgang Schäfer-Klug explained: "Vocational training at Opel does more than just pursue a business purpose. It is also about giving young people the opportunity to be a part of something. That is why I am pleased that we have made it possible for 300 colleagues to accept permanent positions at the company after the completion of their training last year and this year. Thanks to our agreements, we will continue creating good conditions in the departments for apprentices to join the company permanently."
Andrea Nahles congratulated Opel on its anniversary and emphasized how important it is that committed companies get young people ready for the future trend of "Work 4.0": "We need to and want to make vocational training more attractive and strengthen it. Technical progress and digitalization are placing new challenges on the dual training system. Yet they also create tremendous opportunities. The dual training system can and must be one of the engines of ensuring the supply of skilled labor. At the same time, we need to ensure that those who do not have top grades in school also get their careers off to a lasting start through vocational training. We are effectively promoting and supporting this goal through the alliance for vocational training and continued education, the program to support young people who are starting their careers, assisted training and assistance during training."

Right now, some 700 young people are receiving vocational training at Opel's German sites. The 21 professions range from toolmakers to mechatronics engineers and industrial clerks. Around 100 Opel apprentices are completing one of seven cooperative education programs, which are offered in cooperation with several colleges and universities.


Praise for apprentices: commitment and stellar performance
At the anniversary celebration, Opel apprentices received praised for their special dedication. This commitment is reflected by the outstanding results they achieve in exams. On average, Opel apprentices outperformed the median score on tests administered by the chamber of commerce. In the class of 2014, around 80 percent of our apprentices shortened their training and registered for their exams ahead of schedule. Every year, Opel apprentices are recognized at state and national level for their outstanding achievements.

Commitment, motivation and identification with the company were important traits 150 years ago when company founder Adam Opel shook hands with a young man named Georg Klingelhöfer, making him the first Opel apprentice – at a time when Opel was still making sewing machines in his first workshop, the legendary former cowshed.

"Vocational training at Opel is a good foundation for later careers, no matter whether it's at the company or elsewhere," Dr. Neumann said. One of the best known former Opel apprentices, former German Labor Minister Norbert Blüm, was also among the guests at the celebration on Mainzer Strasse. He joined a panel discussion about vocational training in the past and today.

Opel opened its modern training center on the corner of Mainzer Strasse and Weisenauer Strasse in 1999. The company invested around euro 12 million in the training center, which is over 11,000 square meters in size. More than 40 employees from a wide range of professions look after training young people just starting out in the working world. The training center is managed by Stephan Menke.